turn(the)tables on Hunger: Connecting Food and Dance
Who do we picture when imagining the "others" that hunger affects? They're not our family, friends, or neighbors, right? Without personal experience of the issue, we're free to create an image in our mind of whoever we'd like, but sometimes it is one of the aforementioned. Hunger isn't reserved for just-pennies-a-day TV ads focused on third world countries. If 49 million Americans live in food insecure households, we don't have to look very far to discover the story of someone who has experienced hunger in one way or another. These anecdotes tell us to picture a young child who, for no fault of their own, isn't provided for or an elderly member of the community who has been passed by and forgotten about, while dealing with the health implications of old age. While the more sinister among us may create lazy, entitlement seeking enemies with faces composed of our worst biases and prejudices, my personal experience tells me this is not the truth.
Like others, hunger hasn't affected me so much first hand, but it still hits close to home. I may have to use my imagination as well when I picture a younger version of my mother in college, but our country's future leaders and thinkers are just another commonly afflicted community facing food insecurities. She went from hard times as an undergraduate, to earning her masters and PHD with honors, and eventually raising two young men, both of whom would comfortably earn their degrees. As a professor, private practice owner, and distinguished researcher, presenter, and board member, her background is hardly the average person's ideal candidate when seeking for a "type" that would ever be faced with hunger, something America, a society with so much greed and waste, still places a stigma upon. When I imagine those affected, I don't envision people looking for a handout or from a distant group I can't relate to, I see a person others admire and aspire to be like today, who overcame adversity in the past.
When my mom was in college, she'd frequent bars and concerts for a much different reason than most, to stave off her hunger. While the majority use drinking establishments to socialize and inebriate, happy hour for her meant the complimentary hors d'oeuvres, or sometimes even just the pretzels and peanuts. Incentives for students becoming a part of the leisure program at a university would usually be the chance to meet members of the band, their rock 'n roll heroes, but she was there to take advantage of the artists' riders which often included fancy catering. She did this alongside picking up every dirty, forgotten amount of change she could find on the ground, going to restaurants with friends for helpings of their sides, joining a co-op model grocer, and relying on the Krishna Lunch for her few real meals, taking advantage of their suggested donation. A popular feature at both Florida State University and the University of Florida, the Hare Krishna prepare and distribute food as a service to God, running the largest non-profit vegan/vegetarian food relief program in the world, Food for Life. Besides simply not being able to afford meat as a part of her diet, some of these ways of evading hunger, like the organic co-op or the Krishna vegetarian meals, would go on to influence her lifestyle choices around food, and even that of then boys she raised.
When I attended the same school in her footsteps almost three decades later, the roles were completely reversed. I went to shows because the university programmed free performances by exciting bands throughout the year and I stood in line for Krishna lunch because of my vegetarian upbringing and a love for Indian food, both a familiar and emotional attachment for me. Further than that, there was something about experiencing the consciousness movement's food service that meant much more, knowing what it had meant to my mother and, by extension, me. Besides, $3-5 plates of (usually) as much food as you can eat is not only economical, but every student's dream. College is also where I had the privilege of studying abroad and interning in the UK. I spent a summer exploring London and seeing global club culture first hand at institutions like fabric, which was inspiring to say the least. And it just so turns out that my randomly assigned flat mate was the push I needed to take my lifelong love affair with music and apply it to the art of DJing.
For the past three years, as a part of Open House Conspiracy, I've dedicated our monthly's December events in Orlando to raising awareness about hunger and collecting canned food for the Second Harvest Food Bank of Central Florida. Performing guests included King Britt, Q-Burns Abstract Message, Michael Zucker, Huggy, Manny Cuevas, and even DJ Three as a surprise attendee. We gathered hundreds of pounds of goods. This year, I received a letter from Second Harvest asking us to consider doing a virtual food drive for a few reasons, like that it saves Second Harvest Food Bank the time and resources incurred by a physical food drive and the donations allow them to purchase their most needed items. Open House Conspiracy was taking a break from throwing events, so the timing was ripe. With the bulk of it happening through the online digital world, an environment without any of the limitations an actual physical event accrues, it needed to be spearheaded by something more general, that anybody could get involved with, and would do greater good. That's why turn(the)tables on was created, a non-profit with the mission of using dance culture to give back to the community and turn the tables on problems of inequity and injustice by harnessing the power of music, dance, and events. A further play on the turntable theme, it was deemed a Direct Drive. But what does being a DJ, dancer, or event organizer have to do with hunger?
Well, there are multiple parallels. There's the reality that, despite all the posturing and projecting otherwise, if the majority of your average local performers were to actually live by our convictions and quit our day jobs, we wouldn't be so far off from starving too. It's far different from the fame and glory at the top, but for those that see this as the dream, fake it till you make it is alive and well, creating an industry predicated on bedrooms and basements everywhere. Even with the best efforts at an appearance of doing it and loving the artist life, smaller DJs outside of major city hubs are not making ends meet with their art (maybe with commercial prospects some fair better, but that's not our world). I can assure you I don't know many that really do, even those with a respectable resume and some international success. This isn't a bone to pick, but one would think that the years of couch surfing and accepting just barely covering the necessities to make gigs happen would leave us on a more level playing field and with the ability to sympathize with something like wondering where your next meal is coming from, even if it meant a chip in the facade.
On a foundational level, a look back into the history of DJ and dance culture reveals food was integral to one of the very first and most influential archetypes for a great dance party, David Mancuso's all-important New York rent party modeled Loft get togethers in the '70s. Below is an excerpt from Love Saves the Day, a book by Tim Lawrence, that talks about the food and the socioeconomic bend of these original gatherings often credited with inspiring it all:
"'Everything was covered by the contribution.' That included the food, which was a positive, even ideological, combination of assorted organic dishes, delicious breads, and freshly squeezed fruit punch that functioned as the perfect fuel for people who wanted to dance until dawn. 'I tried to create a situation in which there was no economic inequality. If someone couldn' t afford to pay the contribution at the door then they could write me an IOU'." — David Mancuso quote in words by Tim Lawrence
Putting two and two together, it's feasible that Mancuso could have been providing food to Loft-goers in need, or at least a safe space and environment where they would know they could find sustenance, and also belong. In much of the narrative since its earliest days, this has been the largely acknowledged power of dance music, erasing stigmas and serving as a great equalizer. As Mancuso explains of the zeitgeist in the same book, "I was on the streets and in the party. Dancing and politics were on the same wavelength, and the Loft created a little social progress in tune with the times." From the very beginning, modern dance parties were driven by lofty values and ideas of togetherness and unity, love and respect, and perhaps most importantly, shelter. Mancuso made food available to his members and created an emotional gathering point around it too, much like the many targeted community food pantries do. In a world where people sometimes have to decide between housing, food, and medicine, just imagine the impact something like this would have when the AIDS epidemic wreaked havoc on much of his crowd and the dance music community as a whole.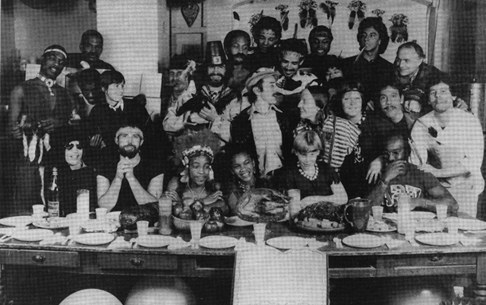 Through the record pool Mancuso later founded with a group of other DJs, he began to operate in a system much like Second Harvest plays for these pantries, that of a distributor. In the '70s, record labels quickly grew tired of the DJ promo model when the craft exploded and there were too many individual players to take note of or make time for. Instead of destroying the coveted and blossoming relationship between the DJs, who would often break records and move sales prior to and outside of the radio, and labels, who of course provided the music, the record pool created a bridge that acted as one egalitarian source, where DJs would have access to even more music than the singular approach that was in place before.
Much the same, Second Harvest has the space, abilities, and resources to take and redistribute donations from large grocers and corporations to small, independent organizations that meet the community's specific needs. Without the food bank's organization a lot of food would go to waste as hundreds of nonprofits would be too much for the benefactor businesses to deal with. Besides that, many of the pantries and kitchens don't even have the overhead to make good of it all themselves. Because the problem is not for lack of food in America — we have such an abundance that we throw far too much of it away — but rather a matter of access and distribution. It's an egregious situation that casts a shadow on our collective humanity. Hunger is the meeting point of many societal problems of inequity we need to fix, all combining to deny our brothers and sisters of such a basic necessity like food for sustenance — the very life fuel that allows the more privileged of us to gather and dance all night. It doesn't end or solve itself overnight, it may even be a part of the human condition, but with a little effort and care we can provide relief today.
Donate
feedhopenow.org/goto/turnthetableson
Follow turn(the)tables on
facebook.com/turnthetableson
twitter.com/turnthetableson
soundcloud.com/turnthetableson
instagram.com/turnthetableson